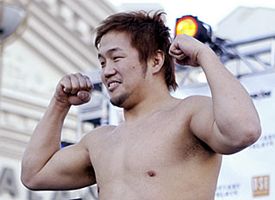 According to a new published report, light heavyweight competitor
Kazuhiro Nakamura
has been released by the
UFC
.
The move had been anticipated but was confirmed in the July 1 print edition of
The Wrestling Observer
.
The decision to release Nakamura was made shortly after his
UFC 84
loss to
Rameau Thierry Sokoudjou
. In that fight, Nakamura was declared the loser via TKO following the first round due to a leg injury. Irrespective of the injury, Nakamura had been dominated by Sokoudjou during the fight's opening round.
Nakamura had made his UFC debut at
UFC 76
last September, where he lost a unanimous decision to
Lyoto Machida
. After the fight, the
California State Athletic Commission
announced it was fining and suspending Nakamura for testing positive for marijuana during his post-fight drug screening. Nakamura appealed but was unable to get the fine and suspension overturned.
Prior to entering the UFC, the 29-year old Tokyo native was considered one of the better light heavyweights competing for the
PRIDE Fighting Championships
in Japan. Known for his colorful entrances, Nakamura recorded notable victories in PRIDE over the likes of
Kevin Randleman
,
Daniel Gracie
, pro wrestler
Dos Caras Jr
., former UFC middleweight champion
Murilo Bustamante
, K-1 standout
Stefan Leko
,
Yuki Kondo
,
Evangelista "Cyborg" Santos
, and
Igor Vovchanchyn
.
http://fiveouncesofpain.com/